Kito Infocom: One of The Responsive Website Design Service Agency
With more than 3.7 billion people who own and use a mobile worldwide and an average time spent on mobile devices exceeding that on the computer, it has become essential for companies to offer websites adapted to these types of peripherals (smartphones and tablets).
For your website, the webmaster of our Responsive Design Web Agency designs a tailor-made project. Specialized in website creation, our agency takes the time to anticipate user behavior in order to take care of the background of the pages and to offer functionalities adapted to the different touch screen terminals.
The team of our responsive web design agency designs a single markup in HTML. Creating a website that adapts to all displays and the cost of development is more interesting than a specialized mobile site. Your website is then only one URL and is displayed automatically without asking how the user wishes to navigate. Choosing an agency for the overhaul of your e-commerce site or to create a showcase website is also the assurance of maintaining an optimal natural referencing because you will have only one and unique site to optimize, whether for tablets or computer screens.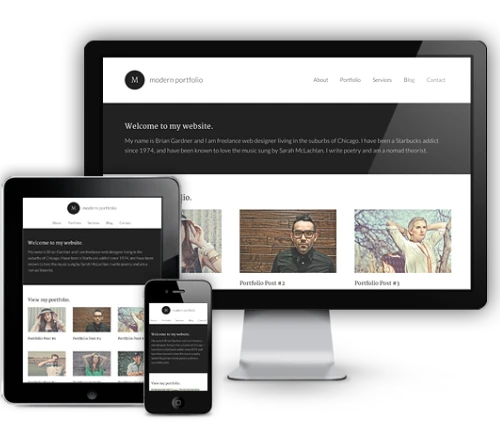 The agency is made up of a team of professionals with extensive experience in carrying out responsive web design actions and strategies so that you achieve the best results for your company by optimizing all resources:
A Digital Interface Suitable for All Screen Sizes
By pushing the doors of our Responsive Website Design Service, we invite you to take advantage of a digital interface design technique, size, text, columns, or even images adjust, move or resize according to the screen resolution for optimal ergonomics and real browsing comfort for Internet users and mobile users. Our achievements will thus meet all your expectations for a total return on investment.
With a responsive design, you pay for a single version and get a personalized website which, on top of that, is ideal for desktops but also notebooks, laptops, tablets, and smartphones. Responsive design is also ready for the next big tech to come out, regardless of its screen resolution.
A Web Agency That Supports You Towards Your Digital Success
Do you need a Website Development Agency for the creation of websites? You have come to the right place; at KITO INFOCOM, we offer you everything you need so that your company has a professional image on the Internet and can gradually increase its visibility in search engines thanks to organic positioning.
Our team, made up of marketing and communication professionals, creates digital strategies adjusting to the clients' objectives in order to increase the positioning of the different companies that hire our services. To do this, we use the best current tools on the market in order to create creative, innovative, and original strategies.
Kito Infocom is a web agency that produces responsive design (and therefore mobile-friendly) websites with tailor-made graphics for companies from small businesses to large accounts. Specialized in SEO, our agency optimizes the web referencing of websites to position them on the first page of Google results. Kito Infocom has implemented effective SEO and SEM campaign tools that allow a rapid return on investment. Our team supports companies in their e-marketing strategy; the digital communication team advises you to promote your products on the Internet and develop your online reputation.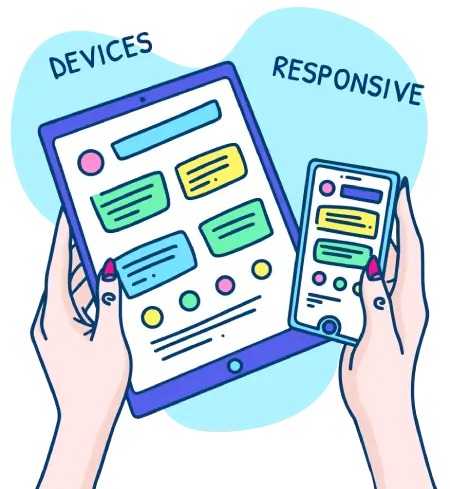 If you want to position your site quickly and on specific keywords, contact our consultants in innovative and Responsive Website Design Service to get a personalized quote for the design of your website. And because we extend our field of activity to digital communication, we drive your web marketing strategy for commerce with the referencing of your site and the creation of a Facebook page and on other social networks (Twitter, Instagram).
Why Work With Us?
To create your site, we take the time to discuss your needs and your image with you in order to offer you a completely tailor-made web design. By contacting the website designer of our web agency, you will find all the tools you need for an optimized digital strategy at your disposal.
Six Good reasons to use our web agency:
Ergonomic UX, UI Interface Design
We ensure your visitors a pleasant user experience through ergonomic design and performance optimizations.
Premium Design
Our passionate graphic designers will be able to offer you creative, modern, and innovative designs.
Web Development Technology
We create and develop according to the latest technologies and Web standards (Bootstrap, Angular, W3C, Retina ready, Responsive, Html5 ...)
SEO Referencing
To attract new customers, it is better to be visible on search engines like Google, Bing, or Yahoo. Our sites are 100% optimized for good natural SEO.
Responsive Design
We develop all our sites in responsive design so that they adapt optimally to any type of mobile device (smartphones, tablets, etc.).Respect of Deadlines:We guarantee the design and delivery times.
Premium Service & High Level of Expertise
Rigor is our watchword: we use modern technologies, and we develop according to the latest Web standards. At Kito Infocom, we attach the utmost importance to optimizing the performance, reliability, and security of the websites we develop.
Advantages Of Creating Responsive Sites With Kito Infocom
Creating a responsive Website with the assistance of our expert will bring you:
Reduction in customer abandonment rates: web users are now used to finding the information they are looking for in just a few seconds. If they land on a site where the location of the resources they are looking for is not intuitively identifiable at first glance, they will most likely change site and look for what they need from your competitor; it can be essential in eCommerce sites according to their target of reference;
Improvement of page loading times: sites that are not easily navigable on mobile or with interfaces that are not suitable for the device inevitably lead to an abandonment of the page. Furthermore, strictly connected to the abandonment rate is the speed with which a site is opened on the user's browser: if the site has only the desktop version, mobile devices will take longer to open the pages (and therefore, users may decide not to want to wait so long). Our team of experts creates responsive sites so that the loading speed will be reduced and the user will not have to wait too long;
Increased availability and, therefore, the reach of the brand: if the site is responsive, users will be able to access it almost at any time and in any place, as long as there is an internet connection available. Do you have a hotel? A tourist walking around your city could look for overnight accommodation and find your site in the Google search results, directly on their mobile phone. And like this, there are so many examples that could be done. On the other hand, mobile-friendly sites will always be displayed in the first results on searches carried out from mobile;
The distinction of the brand from its competitors: the spread of Responsive Website Design Service is increasing more and more, but not uniformly for all sectors of the business. Being an early adopter of this technology, therefore, our team of designers can allow you to add another element to the list of advantages that distinguish you from your competitors;
Personalization of the browsing experience: of course, the 5-inch screen of a smartphone cannot contain all the information presentable on a desktop PC screen unless it creates excessive confusion, exponentially increasing the risk of abandonment. During the design phase of the responsive site, our team carefully selects and reorganizes the distribution of information in order to provide the user with a personalized browsing experience.
Kito Infocom naturally puts at your disposal all its know-how, advising you step by step on the most suitable choices in the creation of a responsive site: request a quote or contact us to find out more!
Do You Have a Website Project? Entrust Your Responsive Site to Kito Infocom
Thinking of getting your website redesigned or creating a new website, have you thought about how it will look on all devices? Often companies overlook the responsive aspect while making new websites. With new technology, new screen sizes, and a greater likelihood that your website will not display the way you want it to on all devices. At Kito Infocom, we have chosen to develop all our sites in responsive design so that they adapt optimally to all mobile devices.
To stay competitive and avoid possible market share losses, trust Kito Infocom for the creation of your responsive design website. Our team of experts carries out the design of your tailor-made website, adapted to your activity and your needs.